Lotto winners David and Donna Hendry plan dream Elvis trip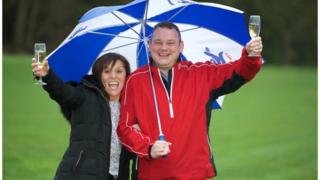 An Elvis fan is planning his dream trip to Graceland after becoming a lottery millionaire on the King of Rock and Roll's birthday.
David Hendry, 45, and his wife Donna, 44, won more than £4m on Wednesday.
The Edinburgh couple said they will move house and take a few family holidays with their 12-year-old son.
Sales engineer Mr Hendry said that when he woke and checked the lottery numbers, he knew immediately that he had won.
He told his wife and later that morning took her Vauxhall Astra for its scheduled MoT, as he attempted to keep to his regular routine.
'Blurt out'
Mr Hendry, who works for Fenn Tool Limited, said: "I checked the winning numbers on my mobile phone as usual, to see whether I'd won anything. It was 6.30am and my wife Donna and our son were in the house.
"I knew immediately I had won the jackpot as I knew the numbers off by heart.
"I told Donna first, who obviously didn't believe me until I showed her our ticket. We then told our son who was flabbergasted, especially when he saw the full amount we had won.
"It is his birthday next week, so I think he's already thought of a lot of extra presents he would like.
"I love Elvis so maybe a trip to Graceland could be on the cards."
'Still in shock'
He added: "I tried not to say too much to anyone at the garage as I was still in shock and I didn't want to blurt it out - we've still only told a few people so far, until now."
Mr Hendry and his wife, a commercial executive for Johnson & Johnson, said they have yet to decide whether to give up work.
They won £4,078,509 in the Lotto triple rollover draw after Mr Hendry went to the post office before Christmas and put on his regular numbers for three weeks in a row to ensure he would not miss any draws over the festive period.
The couple, who have been married for 17 years, bought the ticket from Mid Calder Post Office in Livingston.
The winning numbers were 4, 5, 10, 12, 20 and 23 and the bonus ball was 24. Another ticket also matched the winner numbers, netting its owner £4,078,509 too.