Udderbelly to move to new site at George Square in Edinburgh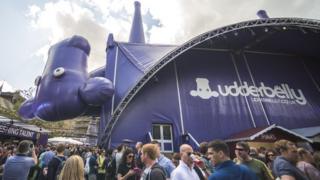 Edinburgh Festival Fringe venue the Udderbelly is to move from Bristo Square to George Square this year.
The move is only temporary while redevelopment work is carried out. The upside down cow is returning to its usual site in 2017.
Udderbelly will be situated on the west side of George Square, alongside Assembly Festival on the east side.
The Edinburgh Festival Fringe will run from 5 to 31 August.
One of the headline shows in the Udderbelly at Fringe 2015 will be a new co-commission with Circa, one of the most renowned contemporary circus companies in the world.
The new commission will be called Close-Up, and tickets will go on sale on 30 January.
Professor Charlie Jeffery, Edinburgh University's senior vice principal, said: "The university is delighted to provide new pastures for the iconic purple Udderbelly cow while development work is carried out at the McEwan Hall in Bristo Square.
"We are proud to continue our strong association with the Festival Fringe and are looking forward to what promises to be another exciting Fringe in 2015".
Charlie Wood, co-director of Underbelly, the operator of the Udderbelly venue, said: "We are very grateful to the university.
"We're really looking forward to creating a new pasture for Udderbelly in George Square for the next two years and to returning to Bristo Square when the works are complete".