Mikaeel Kular: Candle vigil held in Edinburgh park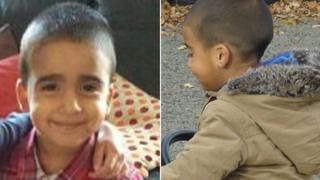 A vigil for three year old Mikaeel Kular from Edinburgh whose body was found a year ago has been held.
The disappearance and death of Mikaeel from his home in Ferry Gait Crescent shocked the local community.
People spent days searching the neighbourhood only to later discover he had been killed by his mother and his body dumped in Fife.
One year on, the community organised a vigil at the local park to remember him.
People gathered in Linear Park in Edinburgh on Saturday evening where floral tributes and soft toys were laid last year in tribute to Mikaeel.
They lit candles and held a minute's silence.
Robert Pearson, one of those who organised the event, told BBC Scotland: "The community were heavily involved in the search for Mikaeel during a very difficult time.
"They worked closely with Police Scotland and other agencies to try to find Mikaeel and obviously the devastating news was that the young boy's body was found over in Fife.
"It is something that is still very raw in the community and something they talk about very frequently but hopefully tonight will give them a bit more of a permanent closure."