Fox trapped in broken washing line in Edinburgh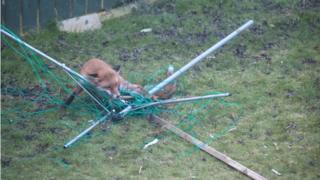 A fox has been released back into the wild after becoming trapped in a collapsed washing line in Edinburgh.
The Scottish SPCA, was called on Friday after a man spotted the animal tangled in a broken clothes line in his garden in Broomhouse Grove.
The fox was freed by animal rescue officer Fiona Thorburn who then took him to the Royal Dick Vet in Edinburgh where he was assessed for injuries.
The animal charity urged people to keep their gardens tidy.
Ms Thorburn said: "The poor fox had got himself well and truly tangled and must have been quite frightened.
"Luckily, the fox didn't come to any harm as a result of his sticky situation and I was able to release him so he could be on his way.
"Unfortunately wild animals can often find themselves trapped by everyday objects which have been left lying outside.
"As such, we're keen to encourage people to tidy away any kind of wire or netting when it is not in use as it could save an animal's life."