New Ebola centre in Edinburgh handles eight blood samples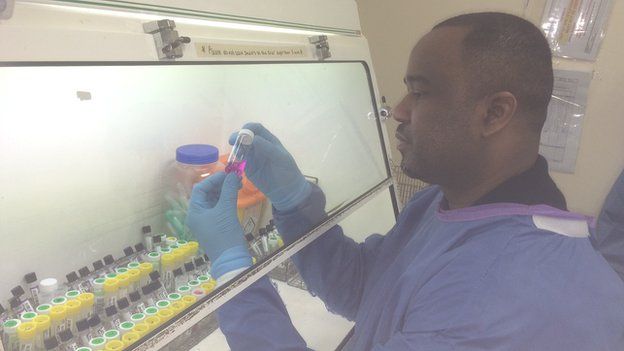 Scotland's new Ebola testing facility in Edinburgh has handled eight blood samples since it began work at the beginning of December.
All have proved negative, except for that of nurse Pauline Cafferkey, who remains in the Royal Free Hospital in London.
She tested positive for Ebola on 29 December after returning from volunteering in Sierrra Leone.
The Edinburgh Royal Infirmary lab provides a round the clock service.
The result of blood samples are known within about six hours of testing.
Previously samples had to be sent to a facility in England.
Maureen Watt, Minister for Public Health, visited the laboratory at Edinburgh Royal Infirmary on Wednesday to meet staff and see how the facility operates.
The unit is now equipped to test for four kinds of Viral Haemorrhagic Fevers including Ebola virus.
This also includes Crimean Congo Haemorrhagic Fever, a case of which was diagnosed in Glasgow in 2012.
Health workers who have had contact with Ebola patients are screened on return to airports in London, Birmingham and Manchester as well as St Pancras station.
Depending on their level of risk they are then asked to monitor their temperature on a daily basis for 21 days, and to report the temperature to local health protection teams.
If they report a raised temperature, or other symptoms, they may be brought to one of Scotland's three regional isolation units and a blood sample sent to Edinburgh for testing.
Ms Watt, said: "Scotland is well prepared to cope with any suspected Ebola cases, and the establishment of this facility is just part of that preparation.
"Once the scale of the west African Ebola outbreak became known, we felt it was important for Scotland to have its own testing facility so we could deliver quicker results and reduce the time that patients have to wait."
Related Internet Links
The BBC is not responsible for the content of external sites.