Former marine cadet Mark Morham jailed after admitting rape in Fife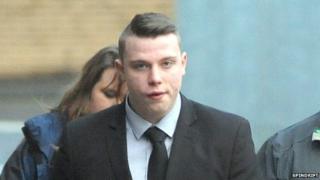 A former Fife Royal Marine cadet who raped a 16-year-old girl and then confessed by text has been sentenced to 28 months detention.
Mark Morham, 18, from Kelty, admitted raping the girl, who cannot be named for legal reasons, at his home on 18 January 2014.
Lord Turnbull told Morham but for his guilty plea he would have sentenced him to three and a half years detention.
Morham was placed on the sex offenders' register.
Morham sent a WhatsApp message to the girl: "I'm sorry. I just lost control and in the moment I done it.
"I basically raped you. I'm sorry. I really am."
'Most serious'
The High Court in Glasgow was told when the offence was committed Morham was still at school, but had since gone on to study music at university.
Sentencing him judge Lord Turnbull said: "The crime of rape can only ever be viewed as a most serious one.
"You overcame your victim's determined resistance and you used your strength to penetrate her against her wishes."
The judge said only a custodial sentence could reflect the seriousness of the crime, but added: "It is appropriate to exercise a degree of leniency which is not normal is such a serious crime.
"Your behaviour was out of character, you come from a supportive, stable family and you have shown genuine and appropriate remorse.
"These are factors which are quite unusual in offences of this kind. Your conviction will bring your university education to an end. This will be a punishment in itself. "
The court heard Morham and his victim were kissing and cuddling while watching a movie on 18 January 2014.
She told him she did not want to have sex with him, but he persisted.
Advocate depute Jane Farquharson, prosecuting, said: "She describes the accused taking hold of one of her arms and pushing it above her head. She was unable to push him off. She kept telling him to stop."
Morham then straddled his victim and raped her, despite her protests.
Miss Farquharson told the court that the girl did not want to lose her virginity until she was engaged or married and the accused knew this.