Break-in at offices of Edinburgh tram inquiry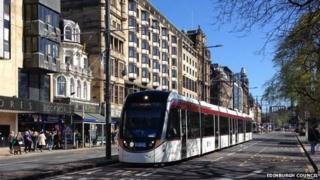 An investigation is under way following a break-in at the offices of the public inquiry into the construction of the Edinburgh tram project.
It has been reported that laptop computers were stolen, along with other items from the Waverley Gate building.
The incident took place at the building on Princes Street between Thursday evening and Friday morning.
Officers investigating the break in have said the stolen computer was "suitably encrypted".
A spokesman for the Edinburgh Tram Inquiry said: "We can confirm that the stolen computer equipment incorporated the highest levels of encryption in line with Scottish government security policy.
"Work will continue at the Edinburgh Tram inquiry in accordance with the published order of events."
Reviewing evidence
It is not known whether information gathered as part of the public inquiry has been lost.
Police said it would be inappropriate to comment further while inquiries were continuing.
Edinburgh's tram service began running in May 2014 but only after six years of disruption and a bitter dispute between the city council and its contractor.
The trams inquiry, announced in June 2014, has been reviewing evidence and identifying potential witnesses.
The Edinburgh tram route cost £776m and covers 8.7 miles (14km) from the New Town to Edinburgh Airport.
In the decade since the first money was allocated to the project, the price doubled, the network halved and it took twice as long to build as originally planned.