Free roaming prairie dogs rounded up near Dunbar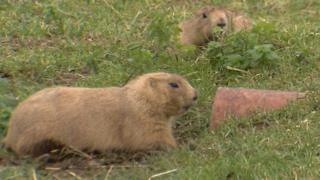 Prairie dogs that were free to roam a farm in East Lothian have been captured and placed in a secure enclosure.
Scottish Natural Heritage (SNH) was concerned that the animals, which are native to North America, would spread into a protected habitat.
The prairie dogs have had free range of East Links Farm Park since 2013.
They were caught and re-housed at the farm near Dunbar in the first use of a voluntary agreement to control non-native species.
SNH was concerned the prairie dogs would escape into the neighbouring John Muir Country Park, part of the Forth Site of Special Scientific Interest, a protected natural area.
'Wee guys'
Non-native species are the second most serious threat to global biodiversity after habitat loss and cost the Scottish economy about £246m a year, according to SNH.
Damage caused by rabbits, which arrived in Britain with the Romans or the Normans, runs to about £81m every year in Scotland.
Stan Whitaker, SNH's invasive non-native species expert, said the prairie dogs could potentially have had a negative impact on habitat and farmland if they escaped.
He said: "Scotland is the first in the UK to use this type of voluntary, cooperative agreement to make sure that invasive, non-native animals don't spread and cause damage to the countryside.
"We believe this is a much more effective way to work with wildlife parks and others, rather than levying fines.
"We hope this will encourage people to be more open when animals or birds escape, and result in better control of invasive species by working together."
Grant Bell of East Links Farm Park added: "Prairie dogs are humorous wee guys loved by our visitors for their antics but they don't voluntarily offer themselves up to capture or enclosure.
"The challenge here was to create an environment whereby the animals would have a secure enclosure that allowed them plenty of freedom and still let our visitors enjoy them.
"The collaboration with SNH allowed us to create an enclosure that suited our needs but also exceeded their expectations and criteria."