Ian Rankin launches campaign for Muriel Spark archive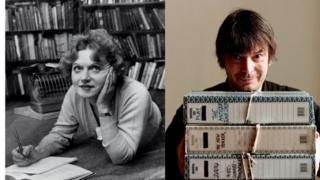 Author Ian Rankin is leading a campaign to secure the final part of the Dame Muriel Spark archive.
The National Library of Scotland (NLS) is hoping to add to its current collection and assemble one of the largest records of a writer's life.
Edinburgh-born Spark, who achieved fame with the publication of The Prime of Miss Jean Brodie in 1961, was a self-confessed hoarder.
Her boxed archive takes up some 46m of shelving.
It covers the period from the 1940s until her death in 2006 and includes manuscripts, letters, diaries, photographs, newspaper cuttings and school magazines, as well as used train tickets, old passports and car repair receipts.
The library needs to raise £250,000 to buy the final tranche of papers.
The money will also be used to catalogue the entire contents and make it fully accessible for people to see and study.
Spark counted literary giants, world leaders and film stars among her friends and acquaintances.
The fundraising campaign will be officially launched at a reception at the Library where Ian Rankin will speak of his enduring admiration for the work of one of Scotland's finest writers.
He spent three years studying Spark's work for a PhD at Edinburgh University which he never completed. His own writing took over, leaving the thesis unfinished.
'Treasure trove'
"As a long-time fan of Muriel Spark's writing, I'm determined her treasure trove of an archive should have its home in Edinburgh, the city of her birth and the setting for her most famous work," said the author of the Inspector Rebus novels.
He added: "Muriel Spark's novels are compelling - charming and witty, complex and puzzling, dark and shocking.
"She also led an extraordinary life, and this is what is revealed in the archive, an archive that belongs right here."
NLS holds many authors' archives but none has so deliberately and carefully preserved such a complete record of their life as Muriel Spark. That is reflected in the sheer size of the archive which will take years to catalogue fully.
The library has already taken delivery of the final instalment of the archive which will remain in sealed boxes until the money is raised to complete the purchase.
'Major coup'
National Librarian John Scally said: "Completing the acquisition of this magnificent archive will be a major coup for the Library that will be welcomed by many people who have long admired Muriel Spark's work.
"There is work to be done to create a full catalogue of what is in all these boxes but when that is complete, the full detail of what the archive contains, and the remarkable stories it tells, will be made clear and become accessible.
Mr Scally added: "A number of the Library's supporters have already donated a substantial sum and we are very grateful for their contribution. We are confident that the total will be achieved."