Sea cadet leader Jerome Gay filmed sex attack on boy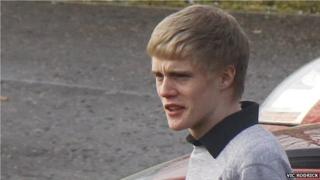 A teenage sea cadet leader has been convicted of sexually assaulting a 12-year-old boy in his care during a training weekend in West Lothian.
Jerome Gay, who was 16 at the time, watched another cadet carry out the attack and recorded it on his phone.
The incident happened at an Army Cadet Centre at Drumshoreland House, Broxburn, in November 2012.
A jury found Gay guilty of carrying out the attack by acting "in concert with another youth".
He will be sentenced on 19 March.
Sexual positions
Livingston Sheriff Court heard that the victim's snoring had been keeping the other cadets awake and they had thrown pillows at him and prodded him to try to wake him up.
The boys then "giggled and laughed" while Gay, now 18, filmed the youngster being dragged - still sleeping - out of his bunk bend on to the floor.
The jury heard that although he was in charge of the dormitory, Gay did nothing to stop another cadet pulling the boy out of his sleeping bag and stripping him of his pyjamas before groping him.
One witness told the jury that the cadet "simulated sexual positions" with the victim while he was still asleep.
The witness said he thought the experience was "pretty shan" - an east of Scotland expression meaning "unfair" - for the boy involved.
'Really embarrassed'
Giving evidence from behind a screen, the victim, now aged 14, told of his shock at waking up naked on the floor. He said he still felt "sad and really embarrassed" by the ordeal.
Sea Cadets petty officer Michael Kaszuba, 51, said he thought at first the incident was "a prank that had gone too far".
It was only later that he learned from another Sea Cadet officer, the mother of one of the boys, that Gay had shown a video of the assault to others.
The footage was never recovered because Gay claimed he had changed his mobile handset by the time he was detained by police.
Gay, from East Linton, East Lothian, denied committing the offence and lodged a special defence of incrimination.
Sheriff Susan Craig called for background reports.