Cleanliness concerns at Kirkcaldy's Victoria Hospital in Fife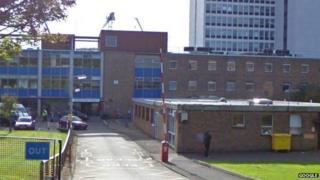 Inspectors have raised "serious" concerns about the cleanliness of the Accident and Emergency ward at Kirkcaldy's Victoria Hospital in Fife.
An inspection carried out in December found dusty equipment as well as trolleys and chairs contaminated by blood and body fluids.
Concerns were also raised about dirty equipment in the intensive care unit.
They found intravenous pumps and syringe drivers "visibly contaminated with blood, medication, dust".
Inspectors found some staff were not following the proper procedures for hand washing and discovered a "significant number" of dirty mattresses.
Infection risk
Susan Brimelow, chief inspector of the Healthcare Environment Inspectorate (HEI), which was set up to help reduce the infection risk to patients, said she was "extremely disappointed" and had escalated her concerns to the Scottish government.
She said: "During our inspection on 2-3 December, we found patient equipment which was not clean and a poor standard of environmental cleanliness.
"We also found staff did not always wash their hands at appropriate times.
"We escalated our concerns to senior management and requested that immediate action be taken to minimise the risk of infection.
"On 11 December, we returned unannounced to ensure improvements had been made and to assess progress.
"Although we saw some areas of improvement, issues with the cleanliness of patient equipment and the environment remained - in particular the A&E department and ward 15.
"Due to the serious nature of our findings, I escalated my concerns to Scottish government."
Positive comments
HEI has identified seven requirements and two recommendations for NHS Fife, including ensuring that all patient equipment is clean and that all staff decontaminate their hands properly.
The health board has also been asked to investigate why cleaning standards in A&E were poor and to take action to address the problem.
Inspectors noted patients who were spoken to during the visits complimented the care and treatment they received and made positive comments about ward cleanliness.
The health board's chairman Allan Burns said: "NHS Fife is constantly striving to raise the standard of care it provides and therefore it is extremely disappointing to receive this report.
"People served by the board have my assurance that everything will be done to address the concerns highlighted in the report and to attain the standards required."
The report was described as "extremely disappointing" by Health Secretary Shona Robison.
She said: "The inspectors uncovered simply unacceptable levels of cleanliness and infection control in certain wards and specifically within the A&E department.
"Hospital cleanliness and infection control compliance is paramount in preventing and reducing the spread of infection. Clearly standards here have fallen well short of what patients and the public rightly expect."
Ms Robison said she had asked the chairs of all Scotland's health boards to look at cleanliness and infection control in their hospitals and report back in the coming weeks.