Edinburgh Trade Union Council lobbies Edinburgh City Council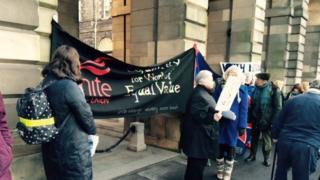 The Edinburgh Trade Union Council has lobbied the city council's budget meeting.
The organisation, which represents trade unions in the capital, applied for permission for a deputation to be heard by the full council.
It said this year's budget, including cuts of £22m, "will damage services and worsen poverty" in the city.
More than 1,200 council roles are set to go over the next three years under proposals to plug a £67m funding gap.
An Edinburgh TUC spokesman said: "We call on the council to demand that the Scottish Parliament unfreeze the council tax and give local authorities the power to implement a visitor levy, a car parking levy and a supermarket levy.
"If these powers had been available the cuts would not be necessary, local people would be not burdened with large tax increases, services would be protected and jobs created.
"The people of Edinburgh would have been defended from austerity. Poverty and inequality would have been reduced."
Fife Council is also due to set its budget on Thursday.