Kirkcaldy rally held over Tesco closure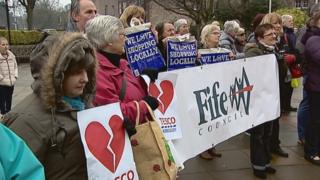 Dozens of people have held a rally in a bid to persuade Tesco to do a U-turn on closing its Kirkcaldy superstore.
The Valentines Day "Tesco Have a Heart" protest, hosted by Fife Council, took place in the town's square.
However, The Courier reported that despite a proposed rescue package Tesco said the store would still make a loss and plans to close it were going ahead.
Tesco announced last month that the store, which employs 189 people, would be among four Scottish stores to shut.
The others are in Edinburgh, Troon and Grangemouth, with Kirkcaldy the biggest of the four.
The move by Tesco, which would see the Kirkcaldy store close in April, was part of UK-wide plans to reduce costs.
Shutting the Kirkcaldy store would also mean the closure of the town's post office, which is based within the supermarket.
Campaigners are urging Tesco boss Dave Lewis to consider a £750,000 rescue plan that has been drawn up by the council and local MP Gordon Brown.
Council leader, David Ross, said: "Today's rally is about speaking up for the vulnerable members of the community who really don't want to see it close.
"Tesco Kirkcaldy is more than just a town centre supermarket - for them it's a lifeline.
"If Tesco Kirkcaldy is to stay open people need to sign the petition, use social media and keep shopping in the store to show support for store staff.
"This will help drive our campaign forward and convince Tesco that keeping the Kirkcaldy store open is the right thing to do."
Mr Brown is due to meet Mr Lewis in London on 23 February to discuss the rescue plan.
The former prime minister said he had put new financial figures to Tesco which suggested there was a case for reconsideration
He added: "What really concerns me is that if we create a hole in the high street by losing the biggest superstore in the town then all the other shops in the area will suffer."