Poetry written by Iain Banks to be published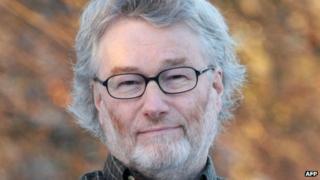 A new collection of poetry by author Iain Banks is being published on what would have been his 61st birthday.
The Scottish author died in June 2013 after announcing he had been diagnosed with gall bladder cancer.
Prior to his death he had persuaded his friend and fellow author Ken MacLeod to publish poetry they had both been writing since high school.
It will be the second book by the author to be published since his death and contains works dating back decades.
Banks was a prolific writer of fiction, non fiction and science fiction. But he had also been writing poetry.
A few years ago, he told his friend MacLeod that he wanted to see poems by both of them published together.
The volume gives a hint of what both authors would become - with wordplay, politics and science fiction all to the fore.
Banks's final novel, The Quarry, was published 11 days after he died. A BBC adaptation of his novel Stonemouth is due to be broadcast soon.
Banks published his first novel The Wasp Factory in 1984 and his debut sci-fi title, Consider Phlebas, came three years later. His novel The Crow Road was adapted for a popular television series in 1996.
In 2008 Banks was named one of the 50 greatest British writers since 1945 in a list compiled by The Times.