Boy breaks neck as goalposts collapse at Liberton High School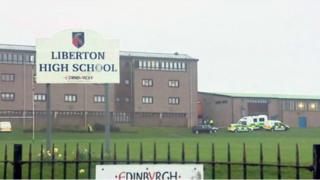 A 12-year-old boy is recovering at home after breaking his neck in the gym at Liberton High School - the same Edinburgh school where a pupil was crushed to death by a wall last year.
Alan Ramsay was knocked unconscious and suffered broken bones in his jaw and neck when the goalposts he was swinging on collapsed during a PE lesson.
A report has been sent to the Health and Safety Executive.
All schools are now reviewing the use of similar equipment.
In April last year 12-year-old Keane Wallis-Bennett died when a wall in the PE changing room fell on her.
An Edinburgh city council spokeswoman said: "We wish Alan a full recovery and the school are offering every support to him and his family to ensure his education continues while he is off.
"We take all incidents of this nature extremely seriously and immediate action has been taken to prevent anything similar happening.
"The school has carried out a full risk assessment of all gym activities and other schools and community centres have been instructed to carry out an immediate review of similar equipment.
"The Health and Safety Executive has been informed."