Swan dies from fishing wire injuries at Linlithgow Loch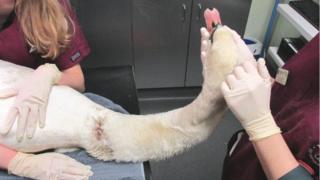 Fishermen at a West Lothian loch have been urged to dispose of their used equipment responsibly after a swan became trapped in fishing wire and died.
The Scottish SPCA was alerted when the female adult swan collapsed at the side of Linlithgow Loch on Wednesday 11 February.
The swan died at the Royal Dick Veterinary School in Edinburgh.
Fishing line was found wrapped around the swan's neck.
500 grams of food
Fiona Thorburn, Scottish SPCA animal rescue officer, said: "When I first examined the swan the fishing wire was tightly wrapped around her neck and she had a particularly bad wound.
"She was very weak and dehydrated as the wire was preventing food from passing down her throat.
"Her mate was trying to entice her back into the water but she was unable to move.
"I took her to a vet and she underwent an operation to remove 500 grams of food from her oesophagus which had become trapped.
"Although the operation was a success, sadly she was very weak and passed away a few hours later.
"What makes this situation particularly upsetting is it could have been easily prevented.
"We are urging anyone fishing at Linlithgow Loch to show consideration to the natural environment and its wild inhabitants.
"It's vital that people make sure they clear away every last piece of fishing equipment as it could save an animal's life."