Boot sculpture honours rubber factory's war heroes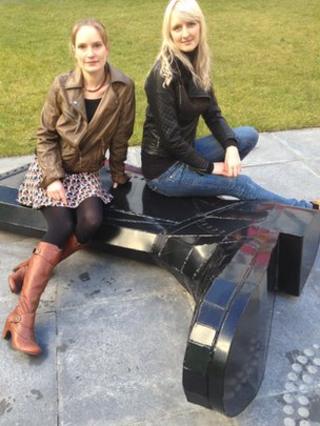 A new sculpture has been unveiled to commemorate an Edinburgh factory which saved thousands of soldiers from trench foot during World War One.
The North British Rubber Company, which stood for decades beside the Union Canal in Fountainbridge, made rubber boots for the British Army from 1914.
The boots helped to prevent trench foot.
Now two city artists have created a special sculpture on the site of the former manufacturing plant.
Artists Svetlana Kondakova and Maja Quille's work is titled 'Imprint'.
Ms Kondakova, 25, said: "The artwork is contemporary in its aesthetics and construction, but also addresses important historical events.
"The sculpture symbolically bridges the past and present, and mirrors the way the factory left its mark on the local and national landscape.
"In order to highlight the impact of the industrial boom of the 19th century in this area, the boot is based on First World War military aesthetics and finished with rivets. This also links the sculpture to local industrial structures like the Leamington Lift Bridge, which stands to this day on the Grand Union Canal."
Ms Quille, 34, said: "The print revealed by the removal of the boot also brings to mind the progression of developments in the area, referencing how new things arise from the old."