Man fights off gang of intruders in his Edinburgh home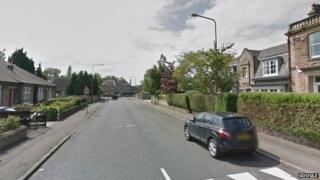 A man has fought off four teenage intruders who broke into his house.
The 36-year-old disturbed one of the thieves in his home in Afton Terrace in the Trinity area of Edinburgh at 21:30 on Tuesday.
They started to struggle and three further thieves came in the backdoor and joined in the fight.
The teenagers then ran off and escaped in a silver Vauxhall which was parked at the front of the house. Police in Edinburgh are appealing for witnesses.
It is believed two further men were also present.
The first man is white, about 5ft 10ins tall, with short dark hair, of slim build and maybe 17 years old. He was wearing a black woolly hat, dark navy blue tracksuit top and bottoms, possibly Adidas with stripes and a gold logo on the arm.
The second thief is white, with a Scottish accent, 19 years old, 5ft 10ins tall, and of slim build. He was wearing a white and red coloured scarf over his face, grey hoodie with the hood up, grey trousers. He had short hair.
The third thief is white, 19 years old, 5ft 8ins tall, and of chubby build.
Three more men were described as between 16 to 18 years old and wearing dark clothing.
Det Con Mark Seymour, of Police Scotland, said: "This was a very frightening experience for the victim who discovered the suspects within his home and who was then assaulted."