Workmen rescued from huge blaze at bed and breakfast in Edinburgh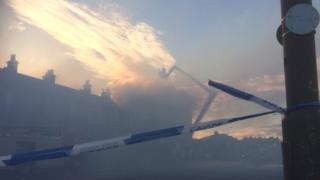 Four workmen have been rescued from a huge fire at a bed and breakfast in Edinburgh.
The emergency services were called by workmen working at the property on Seaview Terrace in Portobello at 14:45
50 firefighters using eight fire engines are tackling the blaze, which started on the first floor of the mid terrace house.
The Scottish Fire and Rescue Service said the flames were now through the roof. Nobody has been hurt.
The road is closed to traffic and pedestrians. Seaview Crescent is also closed.