Ewan Williamson death: Fire service admits safety breaches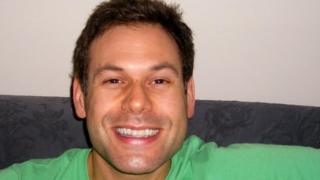 The Scottish Fire and Rescue Service has admitted health and safety breaches in connection with the death of an Edinburgh firefighter.
Ewan Williamson died in July 2009 after becoming trapped while tackling a blaze at the Balmoral Bar on Dalry Road.
The fire service had faced three charges under the Health and Safety at Work Act, including a failure to prioritise the 35-year-old's rescue.
The charges also covered failures of the fire service communications system.
Mr Williamson, who was 35, was the only firefighter in the history of the Lothian and Borders Fire Service to die tackling a blaze.
Scottish Fire and Rescue took over from the eight regional fire services in 2013.
Risks to health
Mr Williamson became trapped in conditions of zero visibility and extreme heat as he was deployed at the incident on 12 July 2009.
At the High Court in Edinburgh, the Scottish Fire and Rescue Service pled guilty to a single charge arising from the incident.
It admitted failing to provide firefighters, including Mr Williamson, with a system of work that was, so far as reasonably practicable, safe and without risks to health.
It failed to have in place effective systems of radio communication and implementation of procedures for firefighters using breathing apparatus on the date of the incident.
It also admitted failing to adequately monitor and ensure attendance by firefighters at training courses and adequately training them to ensure that close personal contact was maintained during firefighting and search and rescue operations in the year leading up to Mr Williamson's death.
Wrong turn
During a narration of events of 12 July 2009, the court heard that Mr Williamson had become separated from a colleague after taking a wrong turn as they exited the smoke-filled bar.
The firefighters had been attempting to locate the blaze in the basement, but had retreated due to lack of visibility and heat.
When it was discovered that Mr Williamson had not followed his colleague out, radio messages revealed that he had turned left instead of right, and had become stuck in the men's toilets on the ground floor, the court was told.
A "BA emergency" - meaning firefighters wearing breathing apparatus are in trouble - was launched, and several unsuccessful attempts were made to locate Mr Williamson before the building was evacuated.
The court heard that firefighters had to force their way into the toilet after cutting their way through a boarded up window which had been reinforced with a metal grille and security bars.
Colleagues who tried to rescue him were faced with the bar floor collapsing and flames coming up from the basement where there was an intense glow "similar to flowing lava".
Mr Williamson had joined the service in 2003.
The court was told that, as a dedicated member of the team, "his loss was felt by all those who worked with him", while his death had had a "devastating effect" on his family.