Reprimand for teacher Nicholas Torsney over pupil messaging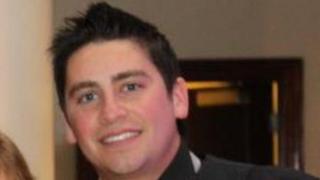 A school PE teacher who sent teenage pupils messages on Facebook has been told he can continue to teach.
Nicholas Torsney has been reprimanded by the profession's governing body.
Mr Torsney broke West Lothian Council's social media policy by sending messages to pupils. He was sacked but then reinstated and moved to another school.
Some of the Facebook messages he sent ended "xx". He was a teacher at St Margaret's Academy in Livingston from 2010 until 2013.
Written warning
Mr Torsney was accused of breaking the General Teaching Council for Scotland's code of professionalism.
In September 2012 he sent two Facebook messages to a pupil which said: "Hey man, u looking forward to this ski trip? I'm not... Sorry I've messaged u xx" and "I should not have sent u a message. Sorry xx".
Following this, he was given a final written warning by West Lothian Council.
But in June 2013 he sent messages to two female pupils which read: "So how was the prom then? Xx".
A male pupil got a message which said: "Hope you enjoyed prom mate, Me U and (name of person) need to go and play golf soon."
Mr Torsney said he thought the pupils had left school a few weeks earlier.
Further disciplinary proceedings then took place against Mr Torsney which led to his sacking.
However, he was reinstated and moved to another school in Livingston, James Young High.
The General Teaching Council for Scotland decided to look into his conduct.
'Genuine remorse'
The Head of Service for Education at West Lothian Council Elaine Cook gave evidence to the hearing - she had been responsible for issuing Torsney with the final written warning.
Ms Cook spoke of her disbelief when Mr Torsney contacted the pupils on Facebook in June 2013.
However, she also told the hearing Mr Torsney was a very good teacher and she had no concerns regarding his professional performance.
Staff, she said, were given training to remind them they should not contact pupils through Facebook, text messaging and personal emails.
She said the council's policy was staff must not contact pupils at all except through normal school channels such as a school letter or a discussion with parents.
In a statement the GTCS said: "The panel considered that the majority of factors indicating that a reprimand would be an appropriate and proportionate disposal were present in this case.
"In particular, the panel noted that there had been no repetition of the conduct which formed the subject matter of the complaint.
"For the reasons already outlined, the panel was satisfied that the respondent had reflected on his conduct, had shown genuine remorse and insight and had taken steps to properly address matters to ensure that it is unlikely he would repeat the conduct.
"The panel was impressed by the compelling oral evidence attesting to the good character of the respondent and of his teaching performance over the period he had been teaching at James Young High School."