Pair admit stabbing Edinburgh takeaway owner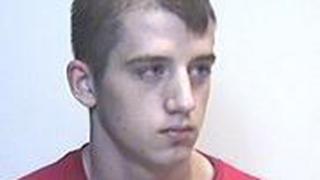 Two men have admitted stabbing a Chinese takeaway owner who tried to stop his car being stolen.
Gary Reid and James Hogg attacked Jie Yu, 38, close to his restaurant in Edinburgh's Pilton area in October last year.
Mr Yu suffered a near fatal neck wound in the attack.
Reid, 19, and Hogg, 24, both pled guilty to attempted murder. In Reid's case, the offence was racially motivated. Sentence was deferred.
Reid is the younger brother of John Reid, who was jailed in 2009 for the high-profile killing of Chinese takeaway driver Simon San in Edinburgh.
The High Court in Glasgow heard how Mr Yu had been working at his takeaway in the capital's Ferry Road Drive on 1 October.
Driven away
Reid and Hogg were in a kebab shop next door. Both were armed with knives.
Mr Yu later went in his car to make a delivery, but returned to his restaurant having forgotten a bottle of juice.
The court was told how he left his keys in the vehicle with the engine running. When he went back outside, he spotted his car being driven away.
Mr Yu grabbed his daughter's bike and went to chase after his stolen vehicle.
Prosecutor Lisa Gillespie said he eventually caught up, but was immediately confronted by Reid and Hogg.
Miss Gillespie said: "Mr Yu was then stabbed repeatedly by both accused. They ran from the scene."
A 999 call was made for their badly wounded victim. Despite fleeing, Reid was caught by police hours later.
He initially claimed he had only witnessed the attack.
However, he was later overheard by police to admit he had stabbed Mr Yu. He also had the victim's blood on his shoes.
Scarred for life
Shortly before first appearing in court, Reid then asked an officer for a newspaper "saying he wanted to read what was being written about him".
He then said he thought it was funny that Chinese people "are dying everywhere".
Hogg was not arrested until a week later in Paisley.
The court heard how Mr Yu suffered wounds to his neck, chest, abdomen, legs and wrist.
The injury to the neck was described as "life threatening" and he has been left scarred for life.
Reid was previously jailed for 14 months for assault and robbery in September 2013.
Hogg has a string of convictions for violence - including a 42-month high court sentence in 2007.
Reid's lawyer Jim Stephenson told the court that his client had taken alcohol and 70 valium pills before the attack on Mr Yu - having initially gone to the job centre to sign on.
Judge Lord Burns remanded both Reid and Hogg in custody and deferred sentencing until next month at the High Court in Aberdeen.