Arts complex and hotel plan for Grassmarket offices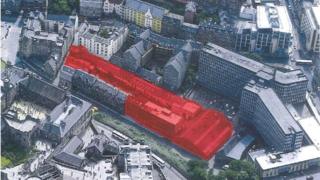 Empty council offices in the Grassmarket are to be transformed into an arts complex and hotel.
The buildings on King's Stables Road in Edinburgh have lain empty since 2009 and were put on the market by the council last year.
Developers want to turn it into a hotel, flats, student accommodation, an arts cafe complex and workshops.
It is a joint venture between Peveril Securities and Campus Development Management.
A consultation will be carried out before any work starts on the site.
World Heritage site
Ralph Jones, head of development at Peveril, said: "These exciting proposals will breathe life into a corner of the Grassmarket that has lain neglected for a number of years, providing a hotel, student accommodation, flats and facilities to accommodate and promote the arts.
"It will also provide a great link between the Grassmarket and Exchange business districts, bringing a vibrant mix of uses to the area and form part of the council's aspirations for a new cultural quarter.
"We are highly sensitive to the fact that the site is within the UNESCO World Heritage site boundary and as we work our way through the planning process look forward to meeting with the local community, updating them on our proposals and listening to their feedback."
Frank Ross, convener of the city's economy committee said: "This development forms part of the Edinburgh 12, key strategic sites across the city the council identified as crucial to delivering transformational change for Edinburgh's economy and with the potential to deliver up to 20,000 jobs.
"This is great news for the city and testament to Edinburgh being such an attractive place for inward investment."