Edinburgh's New Waverley Square images unveiled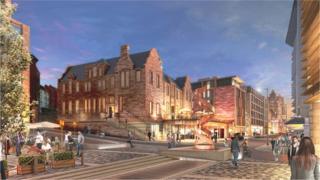 An artist's impression has revealed more detail of how a new £6.5m public square in the heart of Edinburgh's Old Town will look.
The images were released as work on the capital's £150m New Waverley development enters a new phase.
Developers believe the project, which links Waverley Station and the Royal Mile, will create a vibrant new hub in that part of the historic Old Town.
It is set to be completed by the middle of next year.
Construction work on the initial development phase of two Whitbread hotels facing on to East Market Street and Cranston Street got under way in November last year.
Building work will this month "break through" to the Royal Mile, in the form of construction work on the 146-apartment Adagio Aparthotel which will face directly on to the iconic thoroughfare.
Significant stage
The Aparthotel, also featured in a fresh image, is being built behind a retained facade of the C-listed Sailors Ark building.
At the other end, it will overlook the new public square, which lies at the junction between East Market Street and New Street.
The original scheme, called the Caltongate project, collapsed in 2009, leaving it in the hands of administrator until a deal was announced with Artisan Real Estate Investors in December 2011. Full planning permission was granted in January 2014.
Clive Wilding, Artisan's project director, said: "The breakthrough to the Royal Mile marks a significant stage in the evolution of New Waverley and its transformation of Edinburgh's Old Town and the entire city-centre area.
"We are now seeing New Waverley's true scope and potential being delivered before us - a broad sweep of an historic part of the city integrating Edinburgh's busy New Street and Market Street with Waverley station and the Royal Mile.
"The new public square, with stunning views over Calton Hill, will form a vibrant hub for this flagship mixed-use development and its surrounding area, creating an entirely new destination for Edinburgh.
"With it, we are creating the very heart of our development - a vibrant and pedestrian-friendly urban centre mixing open public spaces with high-quality homes and offices, as well as restaurants, shops and hotels linking directly to one of the most iconic streets anywhere in the world."