SNP group leader Steve Cardownie steps down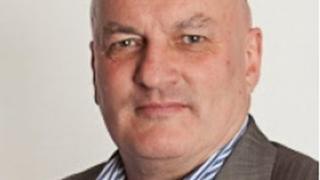 The leader of the SNP group in Edinburgh has stood down and a replacement has been appointed.
Steve Cardownie, SNP councillor for the Forth ward, reportedly took the step to spend more time with his family.
He will continue as a councillor and will be replaced by Sandy Howat, who represents Meadows and Morningside, as group leader.
On Thursday it will be decided if Mr Howat also becomes Edinburgh city council's deputy leader.
'Tireless servant'
An SNP spokesman said: "We would like to take this opportunity to thank Steve Cardownie who has been an excellent leader of the SNP group on Edinburgh council.
"We wish him well for the future and know he will continue to be a tireless servant for the constituents he represents."
Andrew Burns, Edinburgh City Council's leader, said: "I've really enjoyed working with Steve and will be sorry to see him return to the SNP backbenches.
"Politics is though a pretty rough trade, and internal change does sometimes happen.
"Most crucially, despite any changes at an individual level, the local Labour/SNP coalition will continue as we collectively understand the importance of continuity and stability for Scotland's capital city.
"I do now look forward to working with Sandy, who I've known well since 1996/7."