Edinburgh to roll out 20mph speed limit from April 2016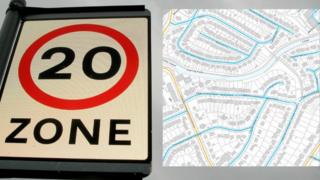 Edinburgh's new 20mph speed limit is to be phased in from April next year, it has been confirmed.
The city centre and rural west Edinburgh will be first in line for the restrictions.
The construction work for the first phase of the scheme is due to start in February 2016.
Zones with the highest incidence of road collisions, pedestrian and cycling activity have been prioritised for inclusion in the network.
Updated plans also showed the estimated investment required to introduce the scheme over the next three years will be about £2.2m.
Awareness campaign
Lesley Hinds, Edinburgh's transport convener, said: "We're now on to the next stage in our journey towards making Edinburgh's residential and shopping streets a lot safer and more liveable.
"Once people have had the chance to feed in any comments about specific streets as part of the speed limit order process, we can move ahead with our phased plan of rolling out the new speed limits from early 2016."
Adam McVey, the city's vice convener for transport, said: "These are bold plans for Edinburgh and although there is majority support among residents for slower speeds, it's still a big culture change for people.
"To help people adapt and get ready for the new limits, we'll be rolling out a comprehensive multimedia awareness campaign across the city in advance of the changes taking effect."