Routine clinic scans could cut heart attack risk, says study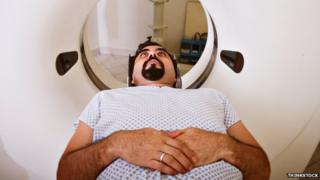 Scans for clinic patients may cut the risk of heart attacks, a study led Scottish scientists has suggested.
Researchers tracked 4,000 patients with symptoms of angina, half of whom were given CT scans as well as regular tests.
The results showed a quarter of the scanned patients had their diagnoses reclassified leading to new treatments.
Scientists said routine scanning could in future help doctors make better treatment decisions.
The SCOT-HEART study, which was led by the University of Edinburgh, also found that the number of heart attacks in patients who had received the scan dropped by about a third over the next 20 months of follow-up.
The lead researcher, Prof David Newby of the university's Centre for Cardiovascular Science, said the findings were "encouraging".
He added: "The overall rate of heart attacks was low and we need to follow them for longer to confirm whether the technology helps to save lives in the long-term."
In a separate study, researchers from the university and NHS Lothian are to investigate whether giving scans to all patients who arrive at hospital emergency departments with chest pains could also help cut heart attack rates.
The trial will test whether the scans can detect patients at risk of a heart attack more effectively than current procedures.
Currently, heart patients are given an angiogram, which checks the blood flow through the heart to identify any obstructions that could pose a heart attack risk.
CT scans enable doctors to look at the blood vessels within the heart more easily, cost around an eighth of an angiogram and are safer for patients.
The researchers aim to recruit 2,500 patients for the trial.
Project leader Prof Alasdair Gray said: "Cardiac CT scans offer many advantages in helping to diagnose heart disease faster. Our goal is to gather evidence for any clinical and cost benefits of the technology before it is widely adopted by the NHS."