Edinburgh Zoo pandas 'did not mate naturally'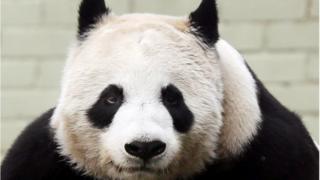 Edinburgh Zoo's pandas did not manage to mate naturally, it has emerged.
The female panda Tian Tian came into season late on Wednesday night and she was artificially inseminated in the early hours of Thursday.
Keepers then tried to introduce her to male Yang Guang but her hormone levels had already dropped and he guessed she was not interested.
The zoo will now keep Tian Tian under observation for the three months in the hope that a panda cub will follow.
Edinburgh zoo acquired the pandas on loan from China in 2011 and previous attempts to mate the pair have failed.
Tian Tian, which means Sweetie, and male Yang Guang (Sunshine) were the first giant pandas to live in the UK for 17 years.
The last pandas in the UK, Ming Ming and Bao Bao, left a zoo in London in 1994 after failing to mate.