Michael Heatlie sentenced for smashing woman's teeth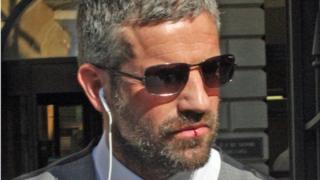 A man who punched a woman in the face leaving her unconscious outside an Edinburgh club has been sentenced to 100 hours unpaid work.
Personal fitness trainer Michael Heatlie, 42, from Leith, must also pay his victim £7,660 for his unprovoked attack which smashed the woman's teeth.
Heatlie pleaded guilty to assaulting Fiona McCartney, 43, outside The Jam House in Queen Street on 29 June 2014.
His defence solicitor said Heatlie had been drinking to excess that night.
Edinburgh Sheriff Court heard previously that Miss McCartney and a friend were standing outside the club in the early hours of the morning when Heatlie, who has celebrity clients in this country and America, approached them and asked for a cigarette.
When told they did not have any, he repeatedly punched the woman in the face. He then ran off but was caught by witnesses of the assault.
'Total loss'
Defence solicitor Jim Stephenson told Sheriff Gordon Liddle his client employed 14 people at his personal fitness studio in Meadowbank.
The lawyer said: "He has accepted full responsibility for this and is horrified as to how he got himself into this situation.
"He does not normally drink to excess, but he had been drinking to excess that night, although that is no excuse.
"He is at a total loss to explain his behaviour that night."
Mr Stephenson told the sheriff that Heatlie could "come up with £5000 in a few weeks" and that could go as compensation to Miss McCartney, which would help her get the remedial work on her teeth done quicker and avoid a delay which could incur higher costs.
Sheriff Liddle told Heatlie the attack on Miss McCartney had been completely unprovoked and had come out of the blue.
She would require expensive cosmetic treatment, he said, which would still not restore her to how she had been before the attack.
The social work report said there was little chance of a recurrence but the sheriff told Heatlie: "This is a wake-up call to what you are capable of if you get into this situation again."