Driver who reversed over pensioner spared jail sentence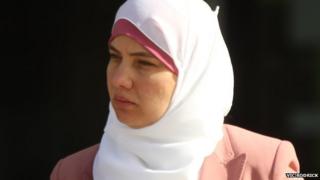 A driver who killed an 85-year-old woman by reversing over her has avoided a jail sentence.
A sheriff ruled that it was not appropriate to jail mother-of-six Tahrir Waswas for causing Elizabeth Hossack's death by careless driving.
Instead, Sheriff Susan Craig sentenced the Jordanian national to carry out 200 hours of unpaid work within nine months under a community payback order.
She also disqualified Waswas from driving for two years.
Sheriff Craig said that for public safety reasons, Waswas would have to sit an extended driving test before getting back behind the wheel.
Livingston Sheriff Court heard that the pensioner was run over and crushed under the wheels of the car when Waswas, the wife of a plastic surgeon, reversed out of the driveway of her home in Livingston, West Lothian, in January.
The accused, who was going to pick her children up from school, failed to see the victim even though she was wearing a bright turquoise jacket and walking slowly with the aid of sticks.
'Inexplicable accident'
Prosecutor Brian Robertson said neighbours watched in horror as Mrs Hossack tried desperately to fend off the car with her hands as it pushed her backwards into the street.
She was knocked to the ground before the car ran over her and she ended up pinned down by the vehicle.
Despite frantic efforts by people to raise the car and give her emergency medical treatment, she was pronounced dead at the scene.
Waswas, 37, who passed her UK driving test in May 2011, earlier pled guilty to causing death by careless driving on 23 January.
Ray Medson, defending, described the case as "inexplicable" and claimed his client had not even felt a bump as her car struck the pensioner. After the accident, he said she had fallen to her knees in "total distress" and the trauma of the incident was still affecting her.
He said: "She's found it difficult to come to terms with causing the death due to her carelessness. It was a moment's inadvertence with tragic consequences."
Sheriff Craig expressed her condolences to Mrs Hossack's family, who were in court to hear sentence being passed.
"Their comments in the victim impact statement were very moving and the loss continues to cause them pain and heartache," she said. "Hopefully this case will have brought some comfort to them."
'Horrific' death
She said that Mrs Hossack was obviously a woman of achievement and a talented individual. Prior to the accident she had lost her own son and was recovering from the loss of her husband but she was likely to have enjoyed good health for some time.
The sheriff said the offence was clearly "at the lower end of the scale" for causing death by careless driving. She said Waswas had failed to keep a proper lookout, hadn't seen Mrs Hossack when she should have and had continued driving after the accident.
However she said she was also of good character, a first offender, carried out charity work and was a loving mother with a supportive family.
She said Waswas also clearly understood the consequences of her actions, didn't seek to blame anyone else and shared in the Hossack family's grief.
In a statement following the hearing, Mrs Hossack's daughter Margaret Walker said the family had lost her brother George 18 years ago, also in a road accident.
She added: "This is a tragedy for all concerned, and it was inexplicable how it happened.
"I would like to thank very much the witnesses who were with my mother at the end, it was a horrific way for her to die.
"I miss her every day, as does her granddaughter, Fiona, whom she doted on."