Beltane Fire Festival ready to light up Edinburgh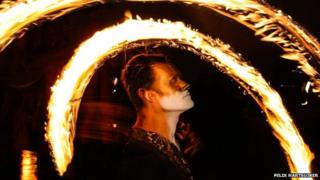 Organisers of the Beltane Fire Festival are putting some finishing touches to their preparations for this year's event.
The Calton Hill in Edinburgh will be transformed for the festival, which will begin when the sun goes down at about 21:30.
This year's celebration will include drummers, fire dancers, physical theatre, and the lighting of a bonfire.
The festival will also feature Spark - a performance of sound and light.
The Beltane Fire Festival has been an event in Edinburgh since 1988, and is a reimagining of an ancient Celtic festival.
Lila O'Leary, festival secretary of the Beltane Fire Society, said: "Beltane is a huge community project, kept alive and reinvented every year by hundreds of dedicated volunteers.
"The night itself is always special, the result of months of hard work, and this year will be particularly impressive.
"We're going all out with dazzling fire performances, mysterious characters and stunning costumes.
"Beltane is something we are really proud of."