Donaldson's School to be restructured following review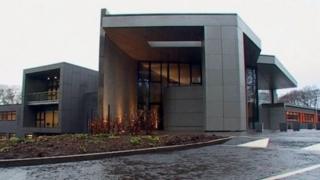 Governors at Scotland's national school for deaf children have announced plans to restructure services following a major review by the management team.
Donaldson's School in Linlithgow is a grant-aided special school (GASS) supported by the Scottish government.
The board said the decision had been taken in order to "meet the diverse needs" of the 42 children and young people in their care.
They also revealed plans to close the school's nursery in June.
In a statement, the board of governors said the nursery had been running at a loss for a number of years and that it had become "financially unsustainable" to continue.
They said that while "a number of posts" may be impacted by the restructure, they "anticipated that an alternative role would be identified for the majority of staff", and would take steps to "minimise the impact of the restructure on staff as much as possible".
All six nursery staff are to be included in the posts under review and will be part of the consultation process.
The school had previously been served with an improvement order by Scottish government ministers following an unannounced inspection.
Following this an improvement plan was produced and a new principal appointed, while seven of the 16-member board of governors resigned.
The review of the school's activities began in November 2014 when the then new principal Laura Battles decided that appropriate procedures were not being followed and issues needed to be addressed as a matter of urgency.
'Duty of care'
Since then, the school has been working closely with the Scottish government and a number of other agencies in order to upgrade its practices.
Revealing their decision, the board said: "Over the years the student profile has changed considerably to include a significant number of children and young people with complex additional support needs, and the review found that the school has an essential role to play in a range of provisions to ensure the wellbeing and education for these pupils in Scotland.
"In order to fully meet the diverse needs and ensure the care and wellbeing of these children and young people, the school recognised a need to provide an enhanced range of expertise necessary for its new and expanded role and is reviewing its current staffing structure."
Board convenor John Anderson said: "It is always difficult to review people's jobs, but equally, we have a duty of care to the children and young people at Donaldson's. Their needs are highly specialised and we must ensure we have the expertise necessary to deliver a service that is capable of fulfilling our commitment of care to them, their parents and carers.
"Since the School moved to Linlithgow in 2008, it has evolved and is no longer simply a school for deaf children - many of our students have very profound disabilities - and we must create and develop a team that is fit for purpose in 2015 and for the future.
"We are following all due and fair process in our consultation with staff, trade unions and professional associations and will redeploy staff where we possibly can. The school would also like to thank all the external agencies who have helped us with our review, and particularly West Lothian Council who are working in partnership with us to reallocate the children in the nursery."
The consultation process is expected to be concluded within the next two months.