Gordon Veitch jailed for killing Brian Bathgate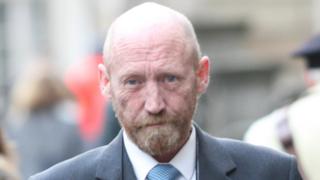 A man who was caught by his distinctive walk has been jailed for life for the murder of a father-of-four in East Lothian.
At the High Court in Glasgow, Gordon Veitch, 56, was ordered to spend at least 16 years in jail.
He was earlier found guilty of murdering Brian Bathgate, 45, in a knife attack at Barney Mains Farm, near Haddington, on 15 March 2013.
Veitch's solicitor said he may die in jail because he has cancer.
Judge Sean Murphy QC told Veitch: "On two occasions you went to remonstrate with Mr Bathgate.
"The circumstances are not clear but you stabbed him in the neck before leaving the scene. The reasons why you did this are also not clear."
Groundbreaking footprint analysis techniques were used for the first time to lead detectives to unemployed Veitch after an 18-month hunt for Mr Bathgate's killer.
Forensics experts concluded that the person who left bloody footprints in the cottage where the murder was committed walked with his right foot pointing out.
Veitch, from Tranent, had gone to the country cottage in the early hours, but instead of approaching by the road walked through a field.
He claimed he never went inside the cottage, but had banged on the door a few times and took his glove off to knock on the window.
However, CCTV from a camera at the farm showed light coming from the doorway as if the door was opened.
Bloody footprints
Police also found phone evidence that he had been near the cottage at the time of the murder.
CCTV footage shown to the jury showed that Veitch's right foot pointed out as he walked. The bloody footprints in the hallway showed that the killer walked in exactly the same way.
Solicitor advocate John Scott QC, defending Veitch, said: "He is 56 and facing a life sentence.
"He is receiving cancer treatment and there is a question mark over whether he will survive the punishment part."
Det Ch Insp Keith Hardie said: "Gordon Veitch showed a callous disregard for the life of Brian Bathgate.
"Only he knows why he decided to murder Mr Bathgate during what appears to have been an unprovoked attack.
"Gordon Veitch has shown no remorse for his actions or any consideration for Mr Bathgate's family or friends who have demonstrated tremendous courage and dignity throughout our investigation.
"I hope today's sentencing will provide them with a sense of closure although I recognise that nothing can undo the course of action taken by Veitch."