Teenager attacked Edinburgh pensioner in own home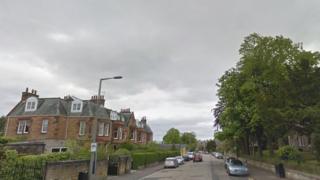 A teenager who attacked and robbed a 72-year-old man in his own home was reported to police by his father.
The 17-year-old, who cannot be named, stole money and a computer from the pensioner after assaulting him in his home in Morningside Drive, Edinburgh.
His father contacted police with copies of Facebook entries which implicated his son and an accomplice in the crime.
At the High Court in Edinburgh, the youth admitted forcing his way into the man's home, punching and robbing him.
Advocate depute Allan Nicol told the court that the pensioner, who previously had a heart attack, was in bed when he was confronted by two intruders on October 30 last year.
He suffered asthma, anxiety and was partially deaf.
Mr Nicol said: "The males were speaking to him, however he could not hear clearly what they were saying, but when they raised their voices he heard one of them state 'give me the money'."
Blood-stained pyjamas
The 17-year-old was armed with a knife and approached the bed but his victim kicked out. He handed over £40 or £60 from his wallet but a demand was made for his car keys.
He said his wife, who was out, had the car. A further demand was then made for a computer.
Both teenagers then punched the man.
After they left, he called his wife who arrived home to find her husband in blood-stained pyjamas with injuries to his face.
The court heard that the teenager had been freed under two bail orders at the time of the raid.
He was released again and went on to take part in a robbery at a shop in the city.
At court he also pleaded guilty, with two others, to assaulting an employee and robbing him of cigarettes at a convenience store in Gillespie Place on 5 December.
The judge, Lady Stacey, called for background reports and deferred sentence.