Edinburgh hotel manager in 500km challenge across the Netherlands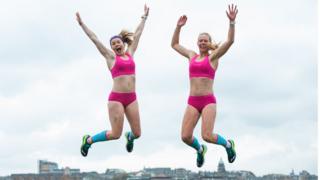 An Edinburgh hotel manager is to run across the Netherlands in her underwear in a 500km (310 miles) challenge over five days for charity.
Lucja Leonard, 37, will be running from Pieterburen to Maastricht along the Pieterpad with her friend Marina Ranger, 25, from London, next month.
The Crowne Plaza general manager and Ms Ranger will run for breast cancer charity Pink Ribbon Foundation.
They will run for 12 to 15 hours a day to complete the challenge.
Mrs Leonard told the BBC Scotland news website that, although they had both run 100km races before, they had never run five in consecutive days.
She said: "It is a really tough challenge. I hope we can finish it, it's pretty scary.
"We will have a support crew carrying food and water because the chaffing would be pretty immense if we were to wear backpacks when we are just in our underwear."
Although Mrs Leonard grew up in Australia, she is from a Dutch family and can speak the language.
She said she hopes locals join them to run parts of the route with them.
They will run north to south starting on Wednesday 27 July.