Juror says Liam Fee murder evidence 'will never leave' him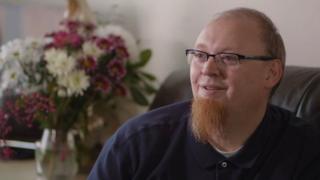 There are calls for jurors to be given more support to cope with the effects of traumatic court cases.
It comes in the week Rachel and Nyomi Fee are due to be sentenced for murdering Rachel's son Liam.
The seven week trial was one of the most distressing cases to be heard in a Scottish court and it was an experience that some will not forget.
---
In a rare interview with a jury member, BBC Scotland spoke to Alan Tait, one of the 15 men and women who were picked at random to make up the jury in the Liam Fee murder trial.
Alan works for a big financial services company in Edinburgh. But on Monday 11 April 2016 he found himself called up for jury duty at the High Court in Livingston.
He says that, at first, it seemed "exciting" to have been selected for a High Court trial. He knew it was high profile, there were photographers and TV cameras outside - he thought this would be an experience to remember. That lasted only as long as it took to read out the charges against Rachel and Nyomi Fee, from Ryton on Tyneside.
"You realise this is going to be a hard slog, this is something I would much rather not be here doing, but at the same time this needs done and I'm going to have to find a way to get through this," he recalls.
As it turned out being a juror is an experience Alan very much wishes he could forget. He still experiences flashbacks, wakes up in the night and has found himself in tears on more than one occasion.
As we talk at his home in West Lothian he recounts the things that can trigger this response. He says much of it comes from everyday life.
"I have a five-year-old daughter who is six months older than Liam would have been. And you see all the life in her and you think what happened to him."
Alan catches his breath: "It can be testing at times."
Much of the evidence in the case came from two boys Rachel and Nyomi Fee abused. Video interviews of the children were shown to the jury over two weeks. They told of being left shaking with the cold after being forced to take freezing showers, of being beaten and of having their hands bound by cable ties, forced to stay in a make-shift cage.
"One of the things that triggers me off are cable ties," says Alan.
"During the election there were posters tied to lampposts with cable ties and it just takes me back to that part of the evidence which was very traumatic."
But there was of course much more.
"There was a 360 degree photograph - and the prosecution QC explained you could see Liam in it. As they were showing you couldn't see Liam, there was a mess of colours at the bottom and suddenly it came into focus and there was Liam lying under the duvet and as quick as it appeared it had gone again.
"And that is absolutely burned into my mind. I can't get that picture out of my head, it was an instant, a split second but it just appears to me and I wake up in the middle of the night and it's there.
"And I have dreams about being in a cage."
Such symptoms have been likened to post-traumatic stress disorder. The exposure to horrific evidence, the inability to share experiences with others and then the responsibility of the jurors role can all have lasting traumatic effects.
Scotland does have counselling for jurors who seek it out, but some academics and legal professionals want to see help offered as a matter of course.
Flashbacks
Clinical psychologist Dr Noelle Robertson said some of the symptoms jurors might see were similar to those suffering from post traumatic stress disorder.
"There are numbers of types of distress that jurors might experience," she told BBC Scotland.
"They might experience flashbacks, they might experience imagery that they've witnessed during the trial, they might remember some of the distressing testimony.
"They might find that they are more irritable, prone to tearfulness feel that the world's perhaps a different, less safe place."
A leading QC, Derek Ogg said more support could be given to jurors who have to listen to some of the most "appalling and dreadful things".
"The public are excluded, remember, from horrendous parts of trials, but the jury sit there and listen with no warning at all," he told the BBC.
"Here's something I would say the Crown could do is risk assess a case and say, 'look - jurors should be warned this is going to necessarily involve some graphic evidence'."
'Deeply haunted'
Four weeks into the trial, Alan became ill and was excused from the jury by the judge, Lord Burns. He recalls that day vividly.
"It was really hard... I'd been with other members of the jury and suddenly I was standing outside Livingston Civic Centre and I was all by myself.
"I couldn't tell anybody what had happened, going back to work I couldn't really say where I'd been. I felt very alone, that was one of the toughest points. Realising I was by myself with this and there wasn't anybody I could talk to."
It has now been five weeks since Rachel and Nyomi Fee were found guilty of Liam's murder and of abusing the two boys.
Alan thinks the memories of the trial that have so deeply haunted him are gradually fading. But he does not believe the trauma of the evidence will ever go away.
"There are things I don't think will ever really leave me. It's hard. It's one of the most traumatic parts of my life, you get dragged back to it and it's not something I'll ever leave behind. There are some things burnt into my brain."
The Scottish Courts and Tribunals Service does have a designated counselling service for jurors.
It is run by NHS Lothian at the Rivers Centre in Edinburgh, with it being a decision for the presiding judge or sheriff as to whether it is offered. It can be made available for an individual who is showing signs of distress or it can be opened up to all jurors at the conclusion of a traumatic case.
In this case Alan was not offered counselling and is yet to decide whether to seek it out.
Given everything we have talked about, I ask, could he ever imagine doing it again?
"For someone to say I would like to do this case again they'd be mad, but it is important. It's important the jury is picked at random. If you start selecting people that can cope with it better, it is going to fall down."
He pauses once more: "It is traumatic but if I went back, I wouldn't run away."