Fife Council announces walking frames amnesty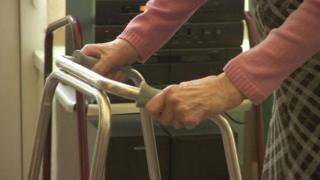 Fife Council has offered an "amnesty" on walking frames in the hope of retrieving tens of thousands of disability aids from people who no longer need them.
Across the local authority area it is estimated there are about 160,000 pieces of equipment used to aid independent living.
The council said only about 61% of equipment is returned.
Baths aids, bedrails and wheelchairs are also included in the amnesty.
Andrew Rodger, chairman of Fife's health and social care partnership, said recovering the items could help the authority make significant savings.
He said: "We believe there is a build up of equipment where people haven't returned things, probably just through them being put in a cupboard and forgotten about.
"We reckon there are 160,000 pieces of equipment sitting in homes across Fife."