Students call for nap pods at Edinburgh University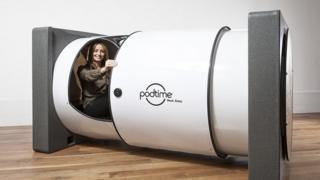 Students are calling for "nap pods" at Edinburgh University in a bid to combat the problem of sleep deprivation.
Pupils want two in their main library at George Square and two at King's Buildings.
A student-led "think-tank", called the Buchanan Institute, wrote a 30-page report on why two rooms should be converted to accommodate the pods.
It said they could get a discount on pods, similar to ones offered to staff at Google, which cost up to £10,000.
Bharat Chaturvedi, 18, a second year economics and politics International student from India and one of the report's five authors, told BBC Scotland: "Students need be involved in more societies nowadays for their CVs, which often means they lose out on sleep at night.
"This becomes a bit troublesome and tiring for students.
"I personally feel the nap pods are a good idea because I often feel sleep deprived and I feel a 20 minute nap would re-energise me so I can meet my commitments for the rest of the day."
'Third pillar of health'
The report surveyed 1,500 students at the university and found about 93% felt they did need a nap while they were on campus.
The idea of nap pods was then put to a vote at the student council meeting with 53% of votes in favour of them.
The results of an online vote to the entire student body will be available on Monday.
If passed, it will be put as a formal request to the university. The university would pay the bill if it agreed to the pods.
The report said: "Student satisfaction for the university is low (120th in the UK according to the 2017 Complete University Guide) and one major factor contributing to this can be student welfare and comfort.
"Harvard Medical School's Dr Charles Czeisler has argued that sleep is the 'third pillar' of health directly linked with wellbeing and productivity.
"Dr Czeisler has highlighted the consequences of sleep deprivation on one's health, productivity, alertness and awareness."
An Edinburgh University spokesman said: "The University of Edinburgh is always open to discussions with its students on a wide range of initiatives to help improve the student experience."