Golf club ban plaque removed from Edinburgh bench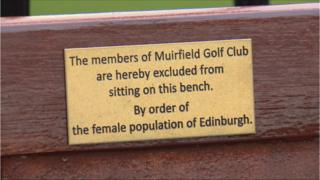 A rogue plaque fitted to an Edinburgh bench excluding members of a golf club from sitting on it has been removed by the council.
The sign on the Princes Street bench said it was fitted on behalf of the "female population of Edinburgh".
Muirfield Golf Club in Gullane in East Lothian, decided against allowing women to become members last summer.
The vote returned just short of the two-thirds majority needed to change its constitution.
A City of Edinburgh Council spokeswoman said: "This is a presentation seat that was donated to the city and has an existing dedication.
"The plaque in question has been placed without permission and therefore has now been removed."
A Muirfield Golf Club spokesman declined to comment.