Trump protesters gather at Edinburgh's US consulate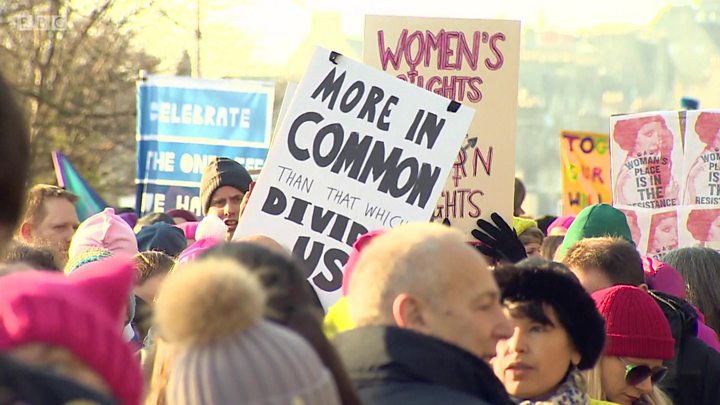 At least 2,000 people have gathered outside the US consulate in Edinburgh to show their opposition to President Trump.
The protesters, mainly women, object to the alleged sexism, racism and homophobia of the newly-inaugurated US leader.
Police supervising the protest have closed Regent Road to traffic.
Similar events have been scheduled to take place in cities around the world.
Hundreds of thousands gathered for a "Women's March on Washington", expected to be the largest of the demonstrations.
One of the organisers of the Scottish event, Leah Higgins from Lanarkshire, said it was important to show people in America who were worried by the Trump presidency they were not alone.
She said: "I organised this to solidarity with our sisters and brothers in the US.
"There's many of these (events) going on all over the World and I felt like Scotland should have one here as well.
"It's been absolutely overwhelming. We've had so much support even just before on the facebook groups and the action network site.
"I'm just really happy that people have turned up."