Ryanair launches 15 new Scottish routes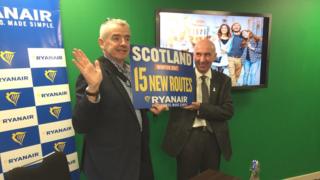 Ryanair has launched its biggest ever Scottish winter schedule, with 13 new Edinburgh routes and two new Glasgow flights.
The new Edinburgh routes include Baden, Budapest, Carcassonne, Eindhoven, Hamburg, Katowice, Nantes, Prague, Szczecin, Toulouse, Venice, Valencia and Wroclaw.
The two new Glasgow routes are to Krakow and Madrid.
The new routes will mean a 20% growth for Ryanair in Scotland.
They will go on sale later this month.
Ryanair's Michael O'Leary said: "We are pleased to launch our biggest ever Scotland winter schedule, with 15 new routes and 20% growth which will deliver over five million customers per year and support 3,750 jobs at Ryanair's four Scottish Airports."