Card skimming device found at petrol pump in Fife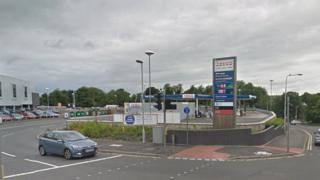 A card skimming device has been found at a petrol pump pay machine at a supermarket in Fife.
It was found on a Tesco Pay at Pump petrol machine in Winterthur Lane, Dunfermline on Saturday.
Police Scotland are now warning people to check machines before they insert a card.
Det Insp Colin Robson, of Police Scotland, said: "Such devices often feature a skimming mechanism and a camera which records their key strokes.
He added: "This allows the criminal to clone the card and, having obtained the PIN, use them to withdraw cash at any ATM."
The device was removed and police are following a positive line of inquiry.