Medicinal garden inspires Palace of Holyroodhouse attraction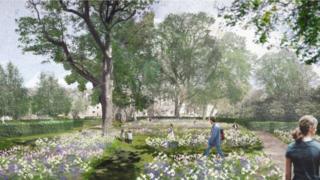 A new public attraction is to be created at the Palace of Holyroodhouse inspired by a 17th Century herb garden.
The Royal Collection Trust has announced plans for the Edinburgh garden inspired by a "physic" or medicinal garden that was once based in the grounds of the palace.
It was then the first of its kind in Scotland.
It was originally created to teach students about plant medicine and to give pharmacists fresh materials.
The new attraction will be created in the 2,500 sq m area behind the Abbey Strand buildings and will have raised flowerbeds laid out in a geometric pattern, reflecting the design of early botanic gardens.
Menagerie with tigers
Jonathan Marsden, Royal Collection Trust director, said: "The return of scientific gardening to the place of its birth in Scotland will provide a new focus of interest for visitors to the palace, for the local community and especially, we hope, for young people.
"It will be a further addition to the palace's spectacular setting within the natural landscape of Holyrood Park and Arthur's Seat beyond.
"It forms an important part of our plans to make more of the palace's surroundings and will provide a family friendly space just moments from the Royal Mile."
The gardens at the Palace of Holyroodhouse have had a number of uses over the centuries.
When Mary, Queen of Scots was resident in the 1560s, they included areas for jousting tournaments, hunting, hawking and archery.
The gardens also once had a tennis court and a menagerie with tigers, lynx, bears, a lion, an ape and a camel.
Simon Milne, regius keeper of the Royal Botanic Garden Edinburgh, said the gardens had a historic link to the Palace of Holyroodhouse and Scotland's first physic garden.
He added: "As we prepare to celebrate our 350th anniversary in 2020, we are thrilled that Royal Collection Trust is creating a new physic garden at the palace and we look forward to even greater collaboration and the opportunity for more people to be inspired about the plants and their history."