Man accused of Martin Hamilton murder dies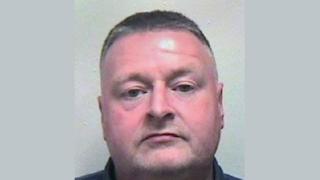 A man on trial charged with shooting dead gangland figure Martin Hamilton in West Lothian has died.
James Farrelly, 52, is believed to have died following an illness which saw him granted bail from court proceedings.
Hamilton was one of Scotland's most wanted men and was nicknamed the Blackhill Butcher, after the housing estate from which he operated.
His remains were found in woods near the Five Sisters Business Park in West Lothian in December 2015.
He was released from prison in September 2014 but went missing in April last year.
James Farrelly had denied murdering Hamilton, 53, in Mosside Drive, Blackburn, between 16 April and 17 December 2015.
It was alleged that, while acting with others, Mr Farrelly shot Mr Hamilton in the head and inflicted blunt and sharp force injuries to his head.
Hamilton, from Glasgow, had been on the police's most-wanted list before he was jailed in 2000 over a string of charges including drug dealing, torture, abduction and sodomy.