Man raped woman, then stalked a second woman while on bail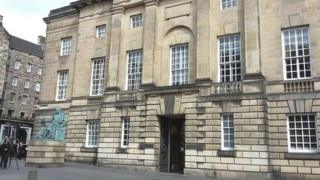 A rapist who was freed on bail before launching a stalking campaign against a second victim has been jailed for seven years.
John Gibson, 48, bombarded a 55-year-old woman with calls before raping her in her home in Dalkeith, Midlothian.
When released on bail he stalked a 25-year-old in the same town.
Gibson denied the rape in 2015 and causing fear and alarm to a woman the following year but was convicted at the High Court in Edinburgh.
The rape victim had described how she offered Gibson £40 to cut her hedge after he had turned up at her home.
He returned to ask for her phone number, and later phoned, asking if he could come round with a bottle of wine.
She said she had been taken aback and added: "It just seemed really unusual."
Constant phone calls
When she returned home after shopping, her phone was ringing constantly. She checked where the calls were coming from and found it was a number Gibson had given her.
The woman earlier told the court she called her sister and her boyfriend about Gibson's calls and said she was concerned.
Gibson later arrived at her home with two bottles of wine in a bag and told her he wanted to talk to her. He went into her living room and asked her to get two glasses.
"I went into the kitchen and got a glass for him, but I didn't want any of his wine," she said.
She said Gibson sat down beside her and put his arm around her waist. "He said 'you haven't got the money, have you?' which I thought he meant for cutting the hedge," she said.
She said she was annoyed and did not answer, but he then attacked her.
Gibson later appeared at Edinburgh Sheriff Court over the attack, but was released on bail.
The following year he turned his attention to a second woman who became anxious and scared by his persistent interest in her.
Panic alarm
He turned up at her home in Dalkeith with a bottle of wine urging her to let him in but the 25-year-old pressed a panic alarm.
The woman used her mobile phone to record events and asked him what he wanted. Gibson offered to "share a glass of wine", but the woman declined.
The judge told Gibson: "Your behaviour, as described in evidence, was despicable and very distressing for your victims."
He added: "It is even more worrying to find that less than a year after the rape had taken place you were again stalking another woman who lived alone to the extent that you caused her to live in fear on a daily basis."
Gibson, an NHS operating theatre worker, was told he would be placed on the sex offenders' register indefinitely.
Defence solicitor advocate John Keenan told the court that Gibson continued to deny all the charges.