Green light for film studio near Straiton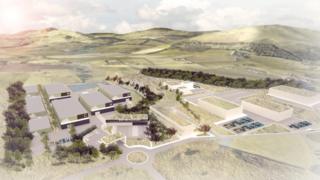 Scotland's first purpose-built film and TV studio is to be created outside Edinburgh after the Scottish government approved the plans in principle.
It is hoped the vast Pentland Studios development will help attract more feature films and high-end TV productions to the country.
The privately-funded project had been mired in a planning wrangle for the past two years.
Its backers now believe the studio can be operational by the end of next year.
The studio, which will feature six huge sound stages, will be built on about 100 acres of greenbelt land at Old Pentland Farm in the Straiton area.
The decision to approve the plan in principle overturns a previous recommendation by a Scottish government reporter, who said permission should be refused.
Local landscape
The reporter concluded that the facility "would cause significant adverse effects on the character of the local landscape and on the visual amenity of those who live, work and travel nearby".
He also said there would be "clear conflict" with a number of provisions of the Midlothian Local Plan.
But Scottish ministers have now ruled that the economic and cultural benefits of the studio outweigh these concerns.
A spokesman said: "The intention to grant planning permission in principle for the Pentlands development, subject to conditions and a planning obligation, has been made after careful consideration of the planning report and issues raised in objections.
"We welcome the potential for significant socio-economic benefits on a local and national scale through job creation and economic development."
It is said that up to 1,600 jobs could be created by the project, which will be built in phases and will eventually also feature two backlots, a hotel, visitor centre, film academy, energy centre, workshops and a creative industries hub as well as the film and TV studio.
PSL Land Ltd, which is behind the proposals, had asked the Scottish government to call-in the application because of the length of time it was taking Midlothian Council to rule on whether or not it should be approved.
A spokesman for PSL said he was "very pleased" the project had now been backed, and that he hoped the first studio facilities would be operational by late 2018.
He added: "It is anticipated that a detailed schedule to progress the planning application will be agreed with Midlothian Council in the next few weeks, producing a phased timeframe with the studio, academy and energy centre as the first buildings to be progressed to full planning consent."
A petition against the film studio proposals had been signed by about 2,700 people - with one in favour being signed by about 3,000.
Based elsewhere
There have been concerns that the lack of suitable studio space meant Scotland was losing out to other parts of the UK in the race to attract major film and TV productions.
Although scenes for several major films and TV dramas have been shot in Scotland in recent years, the productions are based elsewhere - with crews only travelling to Scotland for a few weeks for filming.
Hollywood blockbuster Avengers: Infinity War is currently being filmed in Edinburgh, but its producers are reported to have had to transform a huge former warehouse in Leith into a studio.
The Association of Film and Television Practitioners Scotland (AFTPS) had been lobbying for the Pentland Studios facility to be approved in order to provide consistent work for people involved in the industry.
The association's Belle Doyle told BBC Scotland that the studio would be of "national significance", and would have an "amazing effect" for the country's creative sector.
She also said Edinburgh was an ideal location for a major film studio given its international airport, good-quality accommodation and status as a place that people want to come to and work in.
Scottish Conservative culture spokesman Jackson Carlaw said there was "no doubt" the facility would "finally allow us to match and exceed facilities elsewhere in the UK".
Scottish Greens MSP Andy Wightman said his party "fully supported" the campaign for a film studio in Scotland - but argued that Straiton was the wrong place for it.
Mr Wightman said: "Scottish ministers have defied their own planning advice and, although planning permission has not yet been granted, it looks like they are desperate to approve a proposal that is misconceived and involves the eviction of a smallholder against his will.
"There are many more locations throughout Lothian that would have better suited to this commercial development."