Star Wars actor to play Enoch Powell in Edinburgh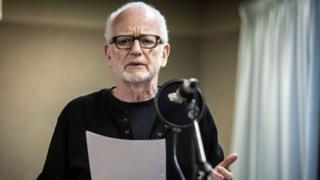 Scottish actor Ian McDiarmid, who played the villain emperor Palpatine in the Star Wars blockbuster series, is to play politician Enoch Powell in a theatre show in Edinburgh.
The 72-year-old, who was born in Carnoustie, will perform at the Royal Lyceum for the first time in more than 40 years.
What Shadows includes Mr Powell's 1968 "Rivers of Blood" speech.
It was written by Clydebank-born playwright Chris Hannan.
The show is partly set in Scotland and sees Mr Powell confronted by an Oxford academic and daughter of a Caribbean immigrant 24 years after the speech.
Addressing a Conservative association meeting in Birmingham, the MP compared anti-discrimination laws to "throwing a match on to gunpowder" and argued mass immigration from the Commonwealth was "literally mad".
Mr Powell died in 1998 aged 85.
Roxana Silbert, director, said:"As we near the 50th anniversary of Enoch Powell's explosive 'Rivers of Blood' speech, I'm excited to be working once again with the brilliant Ian McDiarmid for Chris Hannan's What Shadows.
"Chris's powerful play is a scorching interrogation of how a divided nation can learn to speak across the divide."
The show runs from 7 to 23 September.