Scotland's first urban average speed camera in Edinburgh street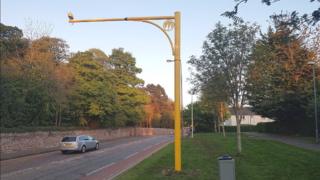 Scotland's first urban average speed camera is being installed in an accident black spot in Edinburgh.
The system is being introduced on Old Dalkeith Road following a series of fatalities and injuries.
Police said speeding vehicles continue to be a problem at the location and the new average speed camera system will be fully operational later this month.
Between 2013-15, there were six crashes with injuries including three that were serious or a fatality.
Work to install the cameras begins on Wednesday.
Insp Vinnie Fisher, of Police Scotland, said: "Having identified a high casualty rate on Old Dalkeith Road and having ruled out other potential remedial measures, we considered all the tactical options available to combat the excessive speed on the road.
"Following analysis and discussions with colleagues in City of Edinburgh Council and the Scottish Safety Camera programme office, it was agreed an average speed camera system would be the most effective intervention in making the road safer for everyone.
"We are confident the system will have a noticeable effect on driver behaviour and the speeds of vehicles on this stretch of road with a resultant reduction in casualties."