Plan for Dunbar bear sculpture in tribute to John Muir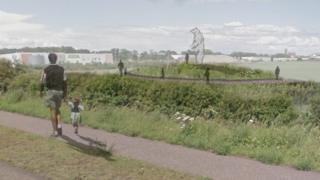 A huge 16ft (5m) sculpture of a bear is being planned for East Lothian by the Scots artist who created The Kelpies.
Sculptor Andy Scott has submitted proposals to East Lothian Council for the tribute to John Muir, the forefather of North America's national parks, who was born in Dunbar.
A frame will be made of the grizzly bear before it is clad in steel and erected on a plinth and grassy mound.
It has been commissioned by landowners, Hallhill Developments, off the A1.
Mr Scott told the BBC Scotland news website he was asked to create a sculpture for the site and decided to pay tribute to John Muir.
He said: "John Muir is an influential character, especially in today's environmental climate.
"There are different levels of interpretation with sculpture and I chose a bear as a subtle tribute to him.
"I wanted to do something about his role in the national parks and I thought an animal would be a symbol of the wilderness he was a passionate advocate of."
An East Lothian Council spokeswoman said: "The council's planners will provide a recommendation in due course."
The Kelpies, 30m-high horse head sculptures in Falkirk, were completed in 2013 at a cost of £5m.