E-fit issued over car washing attack in Edinburgh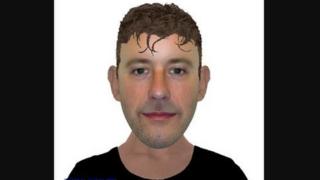 An e-fit has been released of a man who tried to steal a pensioner's car while he was washing it outside his Edinburgh house.
A 71-year-old man was wrestled to the ground while he was washing his Volkswagen Golf on Stanley Place, Abbeyhill, on Friday 5 May at 17:30.
The man and his wife became embroiled in a struggle with the would-be thief but neither were seriously hurt.
He is white, 5ft 10in to 6ft tall, and in his late 20s to early 30s.
He is of medium build with dark curly hair on top and shaved short at sides with dark messy stubble.
He was wearing dark joggers, a dark T-shirt with lighter writing on the chest and a tattoo on his left forearm of a name in old style writing.
He spoke with an Irish or northern Scottish accent.
Det Con John Dunn said: "As part of this inquiry we are keen to identify the male in the e-fit and he or anyone who recognises him is asked to contact police immediately."